Authentic Bison Chili Con Carne Texas Style
---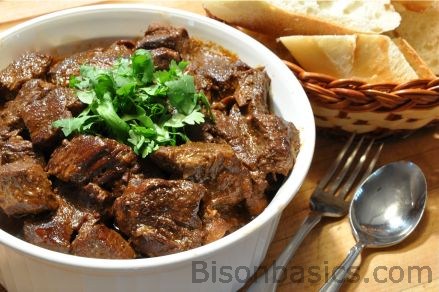 INGREDIENTS
2 hot chilies (Arbol and/or Serrano), stems and seeds removed
2 Moritta chilies, stems and seeds removed
1 Mulatto chili, stems and seeds removed
1 Pasilla chili, stems and seeds removed
1 Guajillo chili, stems and seeds removed
cooking oil as required (peanut or grape seed preferred - have at least 1/2 cup on hand)
6 cups low sodium chicken or vegetable broth, divided
2 medium cooking onions, finely chopped
4 cloves garlic, finely chopped
1 tbsp ground cumin seed
1 tbsp ground coriander seed
1 tbsp dried oregano
1 1/2 tsp salt
5 lbs bison chuck (round steak can be substituted), cut into 2" chunks
3 whole cloves
2 tbsp masa
DIRECTIONS
Coarsely chop or shred dry chilies. Heat 3 tbsp cooking oil in a medium saucepan over medium-high heat. Once oil is hot, add chilies. Cook for 30 seconds to a minute, or until chilies are a deeper color and fragrant. Do not allow to burn. Immediately add 3 cups of broth to the pan. Simmer for 15 minutes.
Remove saucepan from stove and run pan contents through a fine sieve. Place the sieved chili peppers in a blender with some of the cooked broth. Blend until a smooth paste is formed. Transfer the paste and remaining cooked broth to a 5 quart Dutch oven. Set aside.
Wipe saucepan clean and, return to medium-hot burner. Add enough cooking oil to cover the bottom of the pan, about 1 tbsp. Once the oil is hot, add onions. Cook, stirring frequently, until onions begin to soften, about 3 minutes. Then all at once add garlic, cumin, coriander, oregano and salt to the pan. Stir and cook for another minute or two, or until spices have browned slightly and have become fragrant. Transfer pan contents to Dutch oven.
Wipe saucepan clean. In batches, brown bison meat chunks in some hot oil. Brown meat on all sides, turning the meat chunks every minute or two. Each batch will usually take 6 to 8 minutes. Transfer browned meat chunks to the Dutch oven. Between batches, using a food whisk, deglaze the pan with some of the remaining 3 cups of broth. Add deglazed liquid to Dutch oven.
Add what's left of the remaining 3 cups of broth to the Dutch oven along with the whole cloves. Stir to blend contents. Bring to a boil over high burner heat stirring the whole time. Remove from burner and place with cover slightly ajar in a 225 to 250F oven for 3 hours. Note: chili should just be ever so slightly bubbling while in the oven, adjust heat accordingly if necessary.
Remove from oven after 3 hours. Allow to cool to room temperature, refrigerate overnight. Reheat over successive days, covered starting at 350F. Once bubbling starts, usually about an hour later, reduce heat to 225F and cook with cover slightly ajar for 2 additional hours. First session of reheating will give satisfactory results; a second session will result in even better chili.
To finish and serve, remove the chili from the oven and place the uncovered Dutch oven on a medium-hot burner. Taste the liquid and adjust with more salt if necessary. In a separate bowl, take some of the liquid from the Dutch oven and whisk to combine with the masa. Return bowl contents gradually to the Dutch oven stirring the contents the whole time. Cook, stirring until desired thickness is reached, usually 5 to 7 minutes. Serve and enjoy.