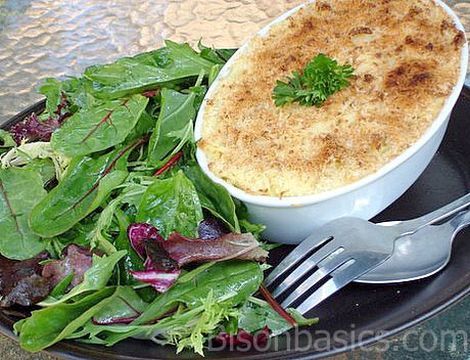 INGREDIENTS
2 tbsp canola oil
2 lbs ground bison
4 medium sized cooking onions, diced
4 cloves garlic, minced
1 tsp salt
1/2 tsp ground black pepper
1 tsp dried ground thyme
5 tbsp flour
1 10oz can consomme or beef broth (do not dilute)
2 tbsp Worcestershire sauce
1 cup chili sauce
4 carrots, diced into 1/4 inch cubes
5 lb potatoes
2 tbsp butter
1 egg, beaten
1 tbsp milk (additional if required)
6 oz grated old white cheddar cheese
4 tbsp Parmesan cheese
5 tbsp bread crumbs
DIRECTIONS
In a large saucepan, add 1 tbsp canola oil and cook ground bison over medium-high heat until completely brown. Remove cooked meat from saucepan and set aside.
Wipe pan with paper towel. Add remaining canola oil and sauté onions and garlic over medium heat until the onions begin to soften. Do not brown! Return cooked bison to pan.
Blend in salt, pepper, thyme, and flour until well combined. Gradually blend in consomme/beef broth. Add Worcestershire sauce, chili sauce, and diced carrots.
Cook stirring often until mixture thickens to desired consistency. This usually takes about 10 minutes. Remove saucepan from heat and allow meat mixture to cool to about room temperature. Spoon cooled meat mixture into serving container(s)
Mash 5 lbs of boiled potatoes with butter. Add beaten egg combined with 1 tbsp of milk. Combine well, and then blend in shredded cheddar cheese.
Potato topping should be very thick - only add additional milk to potato blend if necessary. Evenly spoon potato topping over meat mixture in serving container(s). Combine Parmesan cheese with breadcrumbs and sprinkle over the top. Bake uncovered in 325-350F oven for 45-60 minutes. [NOTE: Use individual casserole dishes (2 1/4 to 2 1/2 cup capacity) like the one shown in our photograph, or one shallow casserole dish with a 5 quart capacity.]
TO SERVE THE SAME DAY - Use broiler to brown top if necessary. Serve with a side of baby green salad and additional chili sauce if so desired.
TO FREEZE & REHEAT - Allow the casserole to cool to room temperature. Cover tightly with foil. May be frozen for up to 2 months. To reheat, bake the frozen foil covered casserole in a 425F oven for 60-75 minutes. Remove foil for last 15 minutes to brown top.