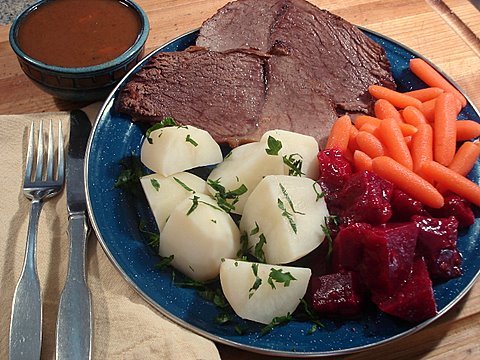 INGREDIENTS
2 tbsp canola oil
One 3-4 lb boneless roast (rump, chuck/blade, or round steak)
1 1/2 cups finely chopped yellow onion
1 cup celery (1/4 inch dice)
1/2 cup carrots (1/4 inch dice)
3 tbsp flour
4 cups tetra-pak or bottled stock (chicken or vegetable)
2 cups water
1 tsp salt (to taste)
1/4-1/2 tsp freshly ground black pepper
DIRECTIONS
Set oven at 250°F.
Put canola oil in a 6 quart Dutch oven. Heat oil over medium to medium-high heat. Once hot, add roast. Turn roast every couple of minutes. Watch carefully; avoid any burning or blackening by adjusting heat. Once completely brown, about 10 minutes, remove roast from Dutch oven and set aside.
Immediately add the onion, celery, and carrots to the Dutch oven. With a wooden spoon combine and scrape in any of the browned bits from the bottom of the pot. Sauté until vegetables start to turn golden, 10 to 12 minutes.
Sprinkle in flour and blend in completely. Add the stock and required water. Bring to a low boil, then remove from heat. Return roast to Dutch oven. Snuggly cover the open Dutch oven with a sheet of aluminium foil. Put the lid for the Dutch oven on top of the foil to form a seal. Place in the middle of the oven and cook until an internal roast temperature of 205F is reached, about 4 hours.
Remove roast from the Dutch oven and place on a serving platter. Hold in the oven with the door slightly open while sauce is being turned into gravy.
Adjust sauce seasoning with additional salt and pepper if necessary.
Thicken sauce into gravy by first bringing to a boil. Add one ball of beurre manie (Combine 1 tbsp butter with an equal amount of flour; roll into a ball. Make up several and refrigerate. Can also be frozen for later use.) and whisk continuously for 3 minutes, or until beurre manie dissolves and has blended in completely. Repeat process until desired thickness is reached.
Slice roast into 1/4 to 1/2 inch thick slices. Layer meat slices in a shallow casserole dish, cover with gravy. Hold in warm oven until ready to serve. Serve with root vegetables and any remaining sauce on the side.
To Serve the Following Day (Recommended): Remove Dutch oven from stove, discard foil seal. Allow roast and sauce to cool to room temperature. Leave roast and sauce in covered Dutch oven. Refrigerate overnight. From the refrigerator, reheat in a 300°F oven for 1 1/2 hours or until heated through. Then make gravy as described above.