Buffalo Cocktail Meatballs
---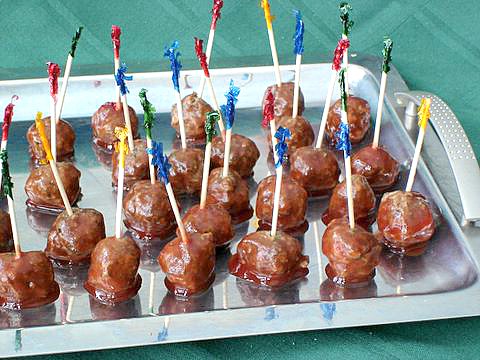 INGREDIENTS
3 eggs
2 tbsp finely chopped parsley leaves
2 dashes Tabasco
1/4 - 1/2 tsp salt
1/4 tsp ground black pepper
1 tbsp minced garlic
1 tbsp dry Italian seasoning
1 tsp dry oregano leaves
2 lbs ground bison
3/4 cup grated Parmesan cheese
3/4 - 1 cup fine dry bread crumbs
1 1/2 cups dry red wine
2 cups ketchup
olive oil or vegetable oil cooking spray
DIRECTIONS
Crack eggs into a large mixing bowl and beat lightly.
Blend in parsley, Tabasco, salt, pepper, garlic, Italian seasoning, oregano, and bison meat.
Blend in Parmesan cheese and bread crumbs, 1/4 cup at a time, until meat mixture binds and meatballs can be formed.
Use about 1 tsp of meat mixture for each meatball, making about 12 dozen small meatballs.
FOR PAN FRYING use a non-stick skillet.
Cook meatballs, stirring occasionally, over medium to medium-low heat using 1-2 tbsp of olive oil for each batch.
Meatballs should be browned and fully cooked after 8-10 minutes of pan frying.
TO BAKE line a cookie sheet with aluminum foil and lightly spray with vegetable oil.
Bake meatballs in a 325F convection oven for 12-14 minutes, or until fully cooked.
Serve The Meatballs With This Delicious And Easy To Make Sauce
Combine red wine and ketchup in a large saucepan.
Bring to a slight boil over medium high heat while stirring the whole time.
Reduce heat and add cooked meatballs required for serving.
Heat through and serve immediately.