Chipotle Jalapeno Bison Chili
---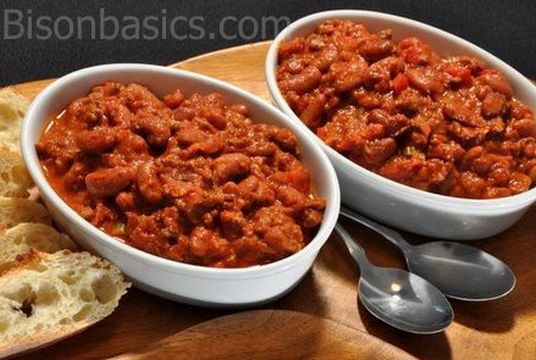 INGREDIENTS
3 1/2 cups dry kidney beans, soaked overnight in 2 quarts of water
2 lbs coarsely ground bison
1 tsp salt
2 tbsp cooking oil
2 cups chopped onions
1 cup diced celery
1/4 cup finely diced jalapeno pepper (seeds removed)
1 tbsp minced garlic
1 large sweet red pepper, diced
1/4 cup chili powder
1 tbsp dried ground cumin
1 tbsp dried oregano
2 x 28 ounce cans of diced tomatoes
2 x 14 ounce cans of tomato sauce
2 small cans of tomato paste
3 tbsp chipotles in adobo sauce, chopped
1 tbsp cocoa powder
1 tbsp cooking oil
DIRECTIONS
Drain the kidney beans that have been soaking overnight.
Put them in a large pot with enough water so that the water level is one inch above the beans. Add 1 tsp salt. Bring to a boil over high heat, stirring occasionally.
Reduce heat, continue to stir very occasionally, and cook until beans are tender firm, about 30 to 40 minutes. Drain the cooked kidney beans and set them aside.
While kidney beans are cooking, mix together the chili powder, cumin, and oregano. Set aside.
While kidney beans are cooking, combine chopped chipotles with the cocoa powder to form a paste. Set aside.


Put 2 tbsp cooking oil in an 8 quart Dutch oven.
Over medium to medium-high heat sauté the onion, celery, & jalapeno pepper until the onion softens, about 5 minutes.
Stir in garlic and sweet red pepper. Cook for another minute or two. Reduce heat if necessary - do not allow the garlic to brown.
Stirring constantly, add the 'put-aside' chili powder, cumin, and oregeno combination. Continue to stir until the spices become noticeably aromatic, usually 30 seconds to a minute.
Immediately add diced tomatoes, tomato sauce, and tomato paste.
Add the 'put-aside' chipotles & cocoa powder paste to the Dutch oven. Stir to combine. Reduce heat to medium-low.


While chili is simmering, in a separate saucepan over medium-high heat, brown the bison meat in 1 tbsp of cooking oil. Cook stirring occasionally to break up any clumps. Cook until most of the water has evaporated from the meat, about 10 to 12 minutes.
Transfer meat to the Dutch oven. Blend in the kidney beans. Partially cover Dutch oven. Maintain low heat so chili is just barely simmering. Stir occasionally. Simmer for at least 1 hour before serving.


Serve with crusty French bread. Flavor improves if refrigerated overnight and reheated the following day. This chili also freezes well.