Chicken Fried Bison Steak
---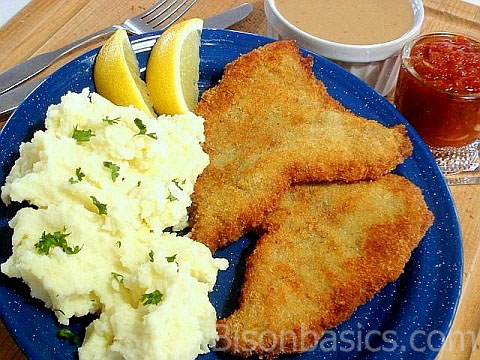 INGREDIENTS
1 lb bison top or bottom round steak sectioned into cutlets about 1/2 inch thick
fresh lemon juice
3/4 cup all purpose flour
1 tsp salt
1/2 tsp freshly ground black pepper
2 tsp dry mustard (optional)
2 tsp ground thyme (optional)
1/2 tsp garlic powder (optional)
2 eggs, beaten lightly
1/2 cup light cream
1/2 cup milk
2 1/2 cups dried bread crumbs
oil sufficient for frying (peanut, canola, or coconut)
DIRECTIONS
Trim off any excess fat or outside membrane from the steaks. Pound the steak cutlets, both sides, with a tenderizing mallet until 1/4 inch thick or thinner. Use wax paper on your cutting board, that way the cutlets won't stick while being tenderized. Lightly sprinkle tenderized cutlets with some lemon juice and set aside.
SET UP FOR BREADING: (dinner plates are best for this) First Plate - sifted flour, salt and pepper for dredging. For more flavor add optional ingredients, or other herbs and spices to your liking. Second Plate - eggs combined with light cream and milk. Third Plate - dry bread crumbs
For lightly breaded steak, dredge cutlets in seasoned flour, dip in egg wash, and coat both sides with bread crumbs. Set each breaded cutlet on a wax paper lined cookie pan. Refrigerate breaded cutlets for 1/2 hour to allow coating to set. Remove tray from refrigerator. For an extra crispy coating (this is our most popular version), repeat egg wash coating and breading with bread crumbs. Refrigerate re-breaded cutlets for another 1/2 hour before frying.
Remove breaded cutlets from refrigerator while oil is being heated up. (Meanwhile set oven on warm or about 225F.) Add enough oil to wide saucepan/frying pan so that you have a little less than 1/4 inch in the pan.
Heat oil over moderately high burner to about 300-325F. If you don't have a thermometer to check, that's when a couple drops of water sizzle off very quickly. Do not allow the oil to smoke, that's much too hot.
Fry steaks in batches, about 4 minutes per side turning once, or until golden brown. Drain on a paper towel lined cookie pan.
Hold fried steaks in oven until ready to serve. Serve with mashed potatoes and gravy, boiled carrots, etc. or simply with a slice of lemon on the side.